How can technology help keep a remote workforce united?
It's one of the biggest questions businesses are asking themselves as we emerge from the pandemic and navigate our way through 2021. While deskless workers, such as those in retail and hospitality, have been grappling with this problem forever, it's something that remote desk-based workers are only now having to come to grips with. While some businesses will be hurrying back to the office as soon as possible, there are countless others who have embraced remote working and would like to retain it – at least in some form – for the foreseeable future.
Over 70% want flexible remote working to remain
More than 65% of business leaders are now considering redesigning their offices or downscaling in order to pave the way for 'hybrid' working, which will see their teams alternate between home and the office. While the appetite to get 'back together' and resume office working is high, very few employees want things to go back to exactly how they were pre-pandemic. In fact, more than 70% want the flexible remote working they've enjoyed throughout the pandemic to stay permanently.
This presents office-based businesses with a unique challenge. How do they preserve the 'cultural glue' they've worked so hard to cultivate and maintain over the years when their workforce becomes more dispersed? How do they keep employees engaged and part of the workplace community? How do they attract and retain new staff, rally around business-wide goals and reward a job well done?
What if all of this – and more – could be achieved through a single app that business leaders and their teams could download onto their phones? No paperwork, no juggling software, and no need to call workers in to give them a well-deserved pat on the back – just one single app.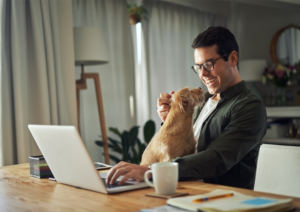 What is Engage4?
Uniting dispersed workforces is going to be a recurring theme in the coming years, and that's exactly what Engage4 is designed to do – from onboarding and retaining staff, to training and building a community network that keeps everybody engaged and in the loop. Put simply, Engage4 is the ultimate people engagement app, and the only tool your business will need to keep your remote workforce together, even when they're not.
Engage4 for managing remote workers
From onboarding and training to benchmarking and brainstorming, your business is probably used to dishing out paperwork like candy. Even if you've managed to digitise entire processes, the odds are you still need your team to jump through various hoops and log in to different platforms to get what they need. Wouldn't it be great if they could just download an app, log in to your company portal and have everything they need literally at their fingertips? That's why we designed Engage4.
With Engage4, your team will feel connected wherever they are. Got a message from the CEO? It's easy to push out via the Engage4 app. Need to set up various channels for chatting and sharing, or organise video check-ins with individual team members? Engage4 can house all of that without the need for third-party software and dozens of logins. Even new hires will feel right at home as soon they join your company, with an inclusive onboarding process already built into the Engage4 app, from welcome videos to documents – all available at the tap of a screen. 
Engage4 is an app that's built around community, so it's the only tool your business should need to keep your dispersed workforce in touch with one another and on task. It's also a great way of managing teams from a team leader perspective. Managers can run surveys and polls, set up wellbeing goals, track breaks and publicly acknowledge and reward staff when targets are hit. 
All of this can be tailored from department to department or business to business. From busy sales teams to hard-working developers, the Engage4 app can be highly customised to ensure your newly dispersed team remain together in spirit, if not always in person.
Engage4 is an all-encompassing solution that helps you connect, onboard, unite and retain your valuable team members.
Learn more about Engage4 as an all-encompassing solution to help you connect, onboard, unite and retain your remote working team, get started today with a 30 day free trial.