Company culture at every stage of the employee journey
We often hear about candidates vetting companies before applying for jobs, with many seeking out specialist sites such as Glassdoor to see how past employees have rated their experience. In fact, Glassdoor suggests that 96% of job seekers are looking for a company that embraces this kind of transparency (no doubt in relation to its user reviews!).
As a result, this new wave of job seekers are looking beyond just the job responsibilities when taking on a new role, seeking out early indications of the culture behind the company.
Everything from website content to individual employee LinkedIn profiles, and past reviews of an organisation are suddenly front and centre for new applicants. This means that there is a real danger of losing out on the top talent if these touchpoints don't add up. On the other hand, there is a great opportunity if company culture is approached as something that must be felt at every stage of a person's employment journey; before, during and even after employment.
Let's say that the candidate liked what they saw and then managed to pass the interview stage. The time from job acceptance to the first day in the role also offers an unmissable opportunity to start bringing them on board. Reaching out with materials and content to get them excited about their new role and the company values is a simple way of making a big impression before they've even officially started.
The real work in onboarding, however, will take place over the first few months. This is when an organisation must be laying positive foundations that will ingratiate new staff with the company values and culture, reinforcing that they have made the right choice in joining. Promoting inclusivity, wellbeing, community and fun will demonstrate that this is a company that makes a real effort to look after its employees way beyond their job function. By presenting what the company stands for, as opposed to what products or services it sells, you are inviting employees to align their own personal goals and career ambition with their employer, and these early engagements are critical.
At the same time, however, it shouldn't be forgotten that this need to feel that an employer is 'the right fit' doesn't stop there.
Making sure that long-term staff feel just as appreciated and rewarded in their job role as they did at the beginning is equally important. All too often hard work from loyal employees can go by unnoticed if all efforts are spent on the recruitment and onboarding stages. This is a recipe that will leave longer term employees feeling underappreciated and soon disengaged.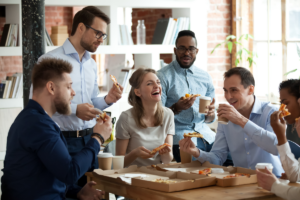 It isn't just about pizza parties or motivational leaflets that sit unread, however. It needs to be a multi-faceted process that centres on an organisation's ability to effectively communicate with all of its employees, no matter where they are along the employment journey. It's about making meaningful connections with messaging that will resonate appropriately with each intended audience.
Individual circumstances can change fast, and a business should always be looking to keep up to date with every single employee to make sure that what worked for them in terms of engagement at one stage still works for them as things move on in both their lives and career. The approaches that work best and the time frames in which to deliver engagement strategies will shift the longer that an employee has been at the company.
Individual circumstances can change fast, and a business should always be looking to keep up to date with every single employee
Being able to personalise individual engagement programmes is one way to ensure that communications remain relevant and evolve as the individual also evolves. And technology is opening many doors for greater personalisation in this space.
A great example that demonstrates the value of personalising communications within another context can be seen in the way Netflix uses alternative artwork for the same shows when displaying them on different user home screens. These will be chosen depending on the viewers preferences and previous choices. Through its algorithm, Netflix identifies which elements of a show should be the most appealing or relevant to each user and then chooses the thumbnail artwork that is the best fit. For example, some of the artwork for Stranger Things will depict more of the horror or science fiction elements of the show for individuals that have a preference for that kind of thing, while other artwork will highlight the characters and their relationships if the viewer's choices reveal more of a penchant for people-focused shows. Or how about a shot of the boys dressed up as the Ghostbusters? This option will clearly be a good fit for any viewers that demonstrate a love of 80s nostalgia.
These kinds of tactics can be incorporated into employee engagement approaches with the right kind of digital tools. In this way, one platform has the potential to speak to all employees, no matter what stage of the employment journey they are at.
Get personalisation right, and a business can stay ahead of the curve in attracting and then retaining the type of employee that not only thinks the company is a good fit for their own ambition, but that will also become a long-term ambassador for the company.