Why mobile app technology is key to uniting a deskless workforce in 2021
If you're reading this article from the comfort of your desk at home or in the office, it might surprise you to learn that you're in the minority. Only around a fifth of the world's workforce sit behind a desk when they put in a shift. The rest – some 2.7 billion individuals – are what we'd consider 'deskless workers' with jobs that involve moving around and engaging directly with people. Healthcare, logistics, construction, hospitality and retail are all deskless industries that are critical to day-to-day life, and that's only scratching the surface.
Only around 1/5 of the world's workforce are desk based.
However, despite deskless industries accounting for more than 80% of the global workforce, innovation in quality-of-life technology always seems to materialise in desk-based sectors. That, however, could be about to change. Spending on technology for the deskless workforce has actually been increasing in recent years, with retail, transportation and manufacturing very much leading the charge. More than 83% of retailers plan to empower and unite their workforce with technological solutions in the coming years. While productivity is of course the key driver here, it's encouraging to note that employee experience outranks cost-saving in terms of business priorities.
This focus on using technology to unite employees and improve their work experience is only likely to continue in 2021, as desk-based roles begin to encounter many of the same issues the deskless teams have been grappling with for years. Has the COVID-19 pandemic levelled the playing field?
Ahead of the curve
Many desk-based industries have had to lean on technology to facilitate remote working during the pandemic, and even those best equipped to deal with agile working have found it challenging to keep staff connected, united and in tune with company culture. The deskless workforce, on the other hand, is no stranger to such challenges. For decades, the deskless workforce has been trying to imbue a sense of identity, togetherness and belonging in its workforce, while at the same time trying to navigate the twists and turns of onboarding and engagement in an often complex environment.  While the pandemic may have uprooted desk-based businesses, it seems deskless organisations have been preparing for agile working along. So where is the innovation in terms of deskless technology? 
Challenges facing deskless teams
When it comes to cohesion, team spirit and the cultural 'glue' that holds a business together, deskless workers are disadvantaged from the outset. Onboarding new hires can be a painstaking process. Not only because of the admin and bureaucracy involved, but because it's difficult to make them feel like a part of the team and instil company values. They simply don't get the kind of structured welcome that a new desk-based hire usually would, and it can be difficult to get a feel for how the company works.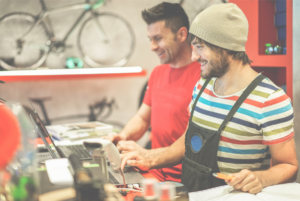 Keeping employees engaged and connected with one another is also incredibly challenging. Chats in the staff room and small talk around the water cooler is something office-based workers take for granted, but they're vital to making staff feel united and connected. There's only so much that tools like Zoom, Skype or Slack can offer a distributed workforce, and even these platforms are difficult to use on the move and seem to favour desk-based workers.
Reclaiming technology
We constantly hear about new desk-based SaaS platforms and software rollouts that claim to be game-changers when it comes to improving productivity, management and human resources. But there's an inherent bias there. The very people designing the game-changing software are desk-based themselves by definition, so the technology has always leaned toward desk-based sectors. In fact, despite four in five workers having deskless roles, the deskless industry only attracts around 1% of technological investment. Here at Vidatec, we want to change that, and it begins with Engage4.
A deskless solution for a deskless workforce
We believe that technological innovation for deskless teams ought to begin with a deskless approach. That's why we created Engage4, a mobile app designed to help leaders in deskless organisations connect, onboard, unite and retain their workforce, all with a swipe and a tap of the thumb. Team leaders in deskless industries like construction, retail or healthcare can't afford to be tied to a desk themselves, so they often miss out on innovations in desk-based SaaS tools and platforms that could dramatically improve their work experience. 
Engage4 changes that, empowering leaders and their teams to unite, communicate and share a workplace culture on the move. It's a mobile employee engagement app that allows teams to feel like a part of the team wherever they are, whatever they're doing. It facilitates remote on-boarding, offers team leaders a unique way to share updates and keep staff in the loop, and even includes social feeds to keep the small-talk going away from the watercooler. 
Our goal with Engage4 is to tip the technological scales back toward the deskless workforce, levelling the playing field when it comes to engaging, connecting and uniting distributed teams. Learn more about Engage4 or register for a free trial.