Many features. One goal – improving workplace communication.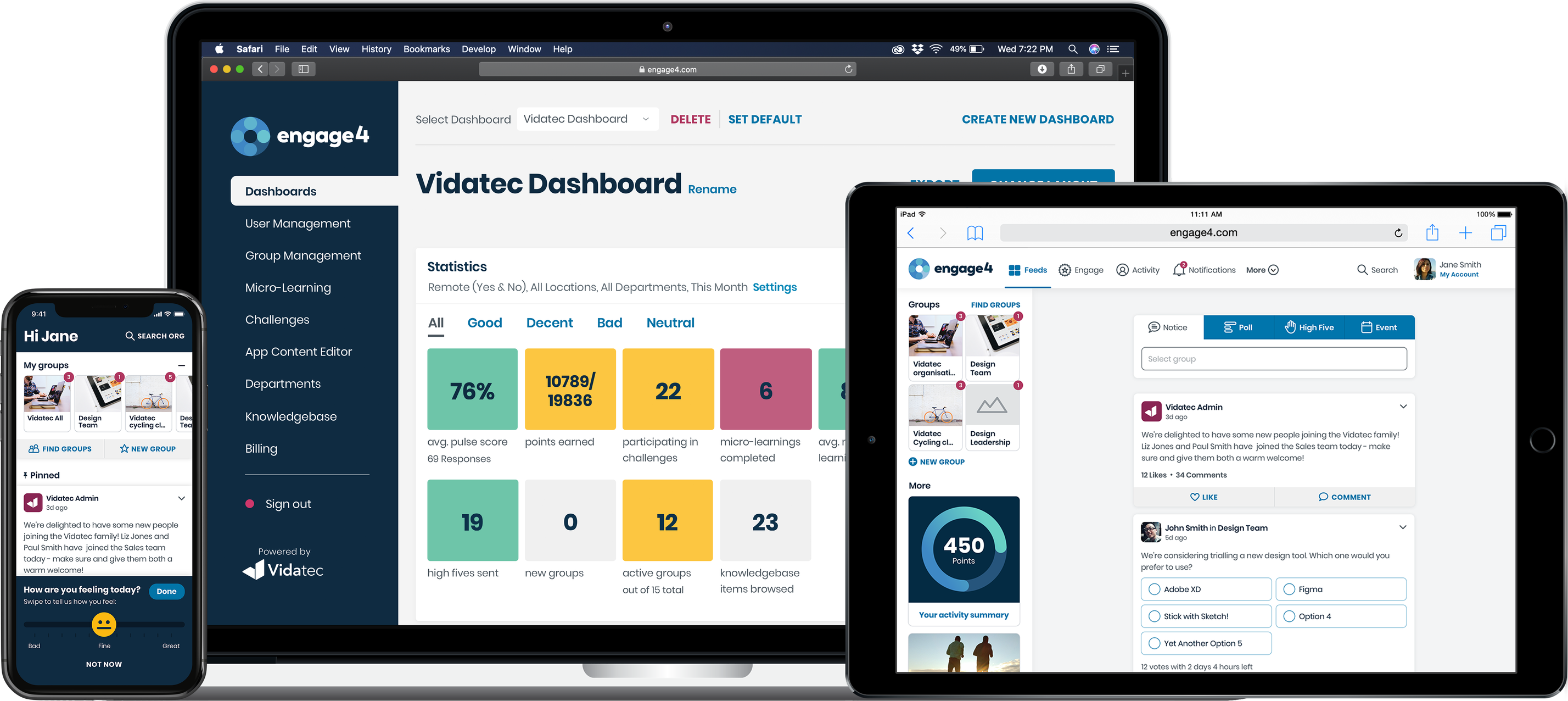 Improve your employee engagement
Check-in Pulse
Time for a temperature check? This feature allows you to quickly check in on how people are feeling in real time.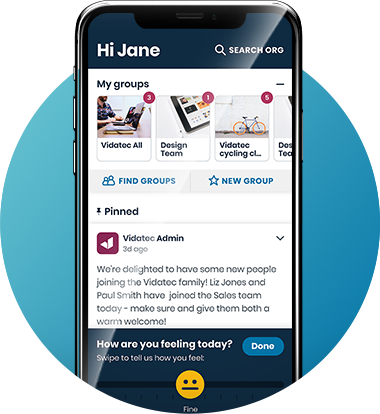 Create polls & employee surveys
Get to know what matters to your employees with easily customisable polls and surveys that allow for instant feedback and help staff better understand their wellbeing.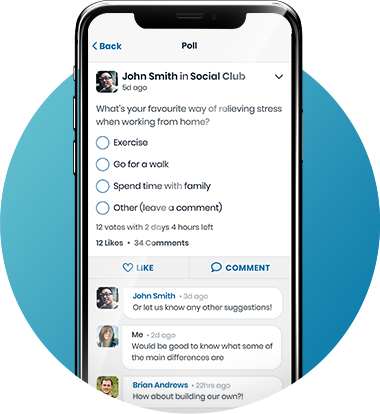 Community news & groups
A personalised newsfeed that not only encourages wellbeing but helps users engage with events, groups, challenges and news from across the company.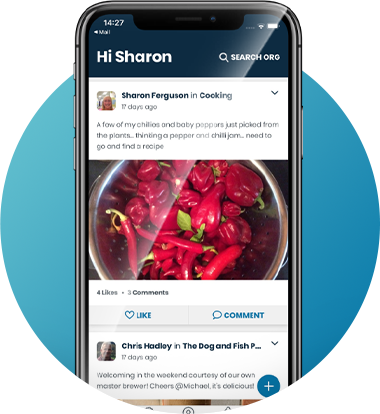 Employee recognition
Achievements should be recognised! Celebrate your colleagues' achievements and let them know they matter.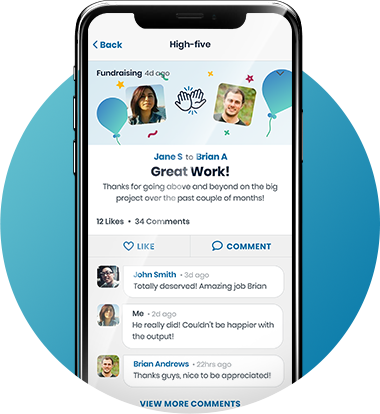 Exclusive wellbeing content
Get relevant, useful content that speaks to a number of areas related to wellbeing – from your mental and emotional health to keeping a work/life balance. Created exclusively for Engage4 by Workwise Wellness.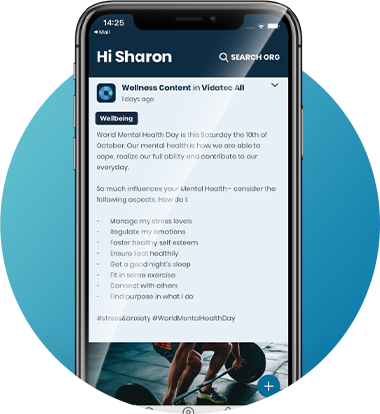 Micro-learning
Make little changes that affect the big picture with this bite-sized learning platform. Learn how to better tackle stress, manage change or simply build knowledge.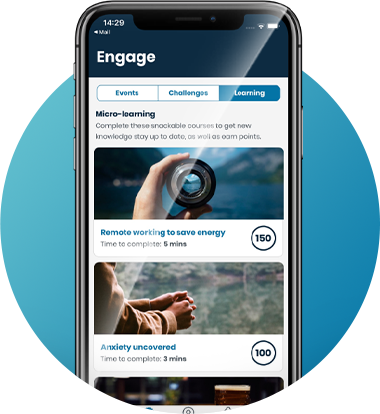 Challenge Tracker
Empower your team to set trackable goals, push themselves and stay motivated with Engage4's challenge tracker.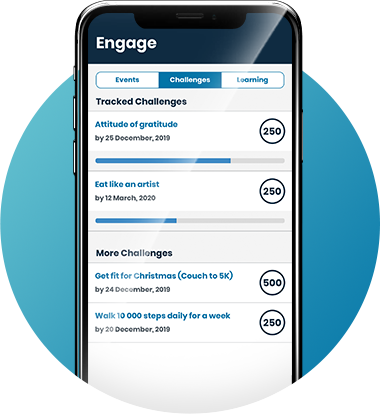 Create, communicate and connect through videos
Use the power of video to connect, communicate and maintain a sense of community. Simple, easy to create and share videos are a great way for people to connect with your story right across your organisation.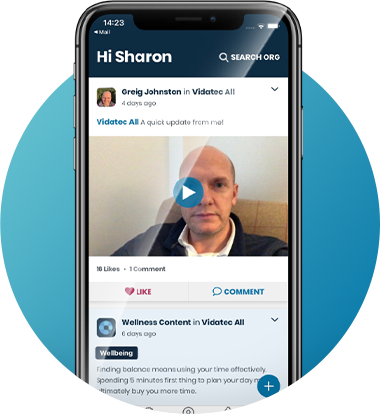 Knowledgebase
This part of our app is perfect for keeping organised. It's a centralised place for all files, long-form content and contact details.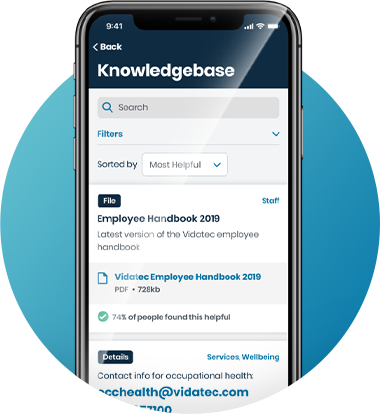 Easy to use reporting with customisable dashboards
Instant access to data enabling you to track employee engagement, with the ability to filter by location and team.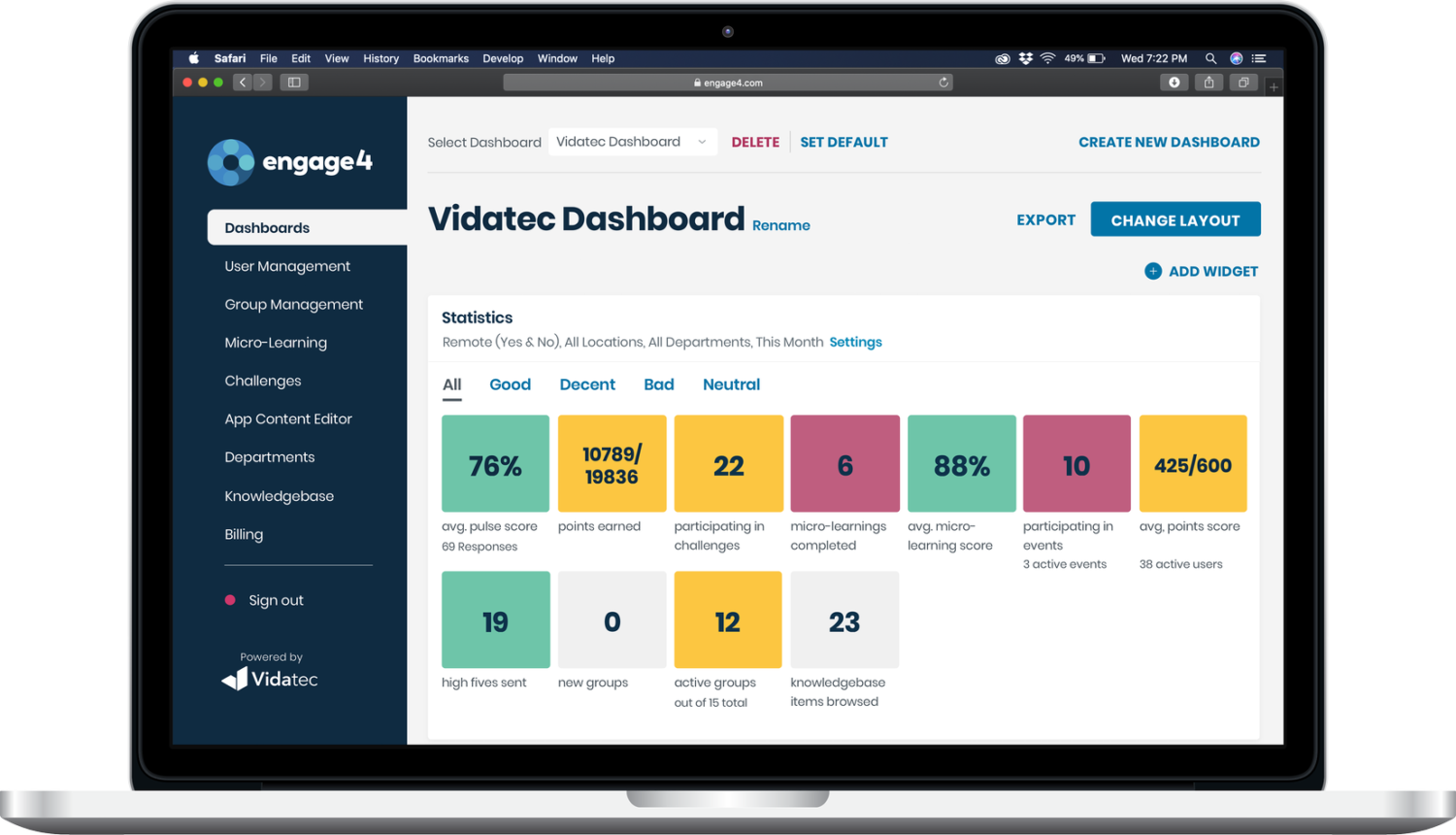 What our clients say
The wellbeing of our people is a key focus for us and engage4 has enabled us to connect our people to bite-sized content that has been so helpful to them in managing their mental, physical and emotional health. The opportunity for social connection is fantastic, especially across a dispersed global team, giving people an easy way to keep in touch with one another.
Yvonne McPhee, Employee Engagement & CSR Manager

One of our main goals with the app was to see if we could breakdown the silos that had existed within departments and between hotels. Engage4 enabled the creation of groups centred around topics of interest rather than departments or hotels which resulted in employees from different locations engaging and interacting with each other more than ever before.
Simon Davis, Group Operations Director

Engage4 is a great tool in the making! It's user friendly, easy to implement and very intuitive. It's currently limited on features for a large company but there seems to be loads in the pipeline. I personally like the pulse check functionality to monitor our people's health.
Ben Fisher, Employee Engagement Manager, Engage4 trialist

Start engaging your employees today.