Engaging a Gen Z workforce within the hospitality sector
The aftermath of Brexit together with the ongoing Covid pandemic has resulted in a big problem for the hospitality industry. With staff members re-evaluating their job prospects or deciding to move out of the UK entirely, statistics indicate that 'around 300,000 hospitality people have left their jobs since the beginning of 2020'. As a result, this has created a massive employment crisis for many businesses that are still trying to recover from the reoccurring lockdowns of the past year.
Consequently, with experienced employees being hard to come by and with an estimated '529,000 young people aged 16-24 being unemployed', it is most likely that Gen Z will be an integral part of revitalising the hospitality industry. So, apart from the fact that the term Gen Z generally refers to anyone born between 1997-2011, what do we actually know about them?
98% of Gen Z own a smartphone
Gen Z have grown up alongside technology. They've learnt how to digitally document their lives on Facebook, how to communicate with their friends through WhatsApp and will happily go shopping or find entertainment through an app on their phone. Plus, with '98% of Gen Z owning a smartphone' and research by Adobe finding that they 'spend a whopping 10.6 hours engaging with online content every single day', I think it's fair to say that they are completely addicted to their phones.
With all this in mind, if you are searching for a way to connect with your new employees but don't know where to start, we're going to show you why you should be thinking digitally.
More Than a Job
Gen Z's digital skills allow them to scrutinise potential employers to better understand a company's values, people, and what it will be like to forge a career with them. They will use this information to prioritise finding a fulfilling professional life that aligns with their own values.
For the hospitality industry, there is an important job now in detangling the public's misconceptions of the industry as a 'bad employment prospect'. One way to approach this is to give your prospective employees the opportunity to learn about the company with information that reinforces positive values and, importantly, is available and accessible at their fingertips and in the comfort of their own homes. Let them bypass their first day nerves by offering a digital onboarding process that moves beyond the traditional paper-pushing approach, resonates with their values and takes advantage of Gen Z's digital talents.
Through an app you can share videos from a new manager or colleagues, give new starters access to all their important employment documents and get them acquainted with their new office space instantly. By letting Gen Z connect with your company through a digital platform from even before they start you can begin to create strong relationships with them much earlier, more efficiently and more effectively.
Want To be Heard
Gen Z have grown up being able to share their opinions on a global scale and use social media platforms to find communities where they feel appreciated.
Unlike previous generations they have always had their phones to give them constant access to the internet, allowing them to find new and creative ways to communicate with one another. This has contributed to them seeking work environments that recognise these new ways of communicating and allow them to approach professional exchanges in a similar way.
With the hospitality industry being made up of a lot of 'deskless workers' who don't have a shared office space, or when they work different shift patterns to most of their colleagues, it can be difficult to unify a workforce and make them feel listened to. So why not meet them halfway and allow them to communicate with you through a single channel, no matter where they are?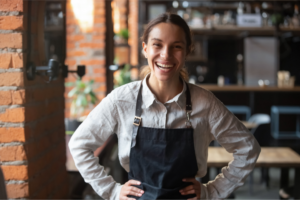 An app offers a messaging platform that will help you promote real connections within your team. By having an app that staff can access anywhere, you are showing your employees that 'your door is always open' and that you are always there to listen. Consistent check-ins with your team, even just a quick hello, will let them know they have a place to voice concerns and will create a strong sense of belonging.
Know Their Worth
While Gen Z are more likely to leave a job if they're unhappy, they are also more money conscious. New research from Clearpay has reported that '68% of Gen Z are budgeting and saving more responsibly than their older counterparts', which would suggest that they are more financially astute and looking for viable long-term career opportunities.
68% of Gen Z are budgeting and saving more responsibly than older counterparts
Due to the employment crisis, employers will need to focus on developing and retaining its workforce. As this new generation of workers begin their professional career in the hospitality industry, therefore, it is crucial that employers help them to see a viable career instead of just a stepping stone to another job.
Every business knows that retaining its staff members is more cost-effective than replacing them but, more importantly, the longer they stay the more value they add to your business. This can be achieved by dedicating time to understand their long-term goals. What are they good at? Where do they want to go with their career and how can you help them get there?
For Gen Z an app will help them to visually monitor their progress at their own convenience, get access to previous success stories from other colleagues, as well as find important resources such as training opportunities. A digital platform will also give an employer an outlet for sharing employee successes with the whole organisation at a time, which will work wonders for motivation.
As the hospitality industry turns to Gen Z to 'fill the gap', investing in robust engagement solutions will enable employers to connect with this younger demographic so that they can get back to business as usual. Engage4 can help any business, but nothing will help you reach a demographic that is always on their phones better than an app.
Learn more about Engage4 as an all-encompassing solution to help you connect, onboard, unite and retain your team, get started today with a 30-day free trial.