Are you taking a multimedia approach to your employee communications?
Living through the pandemic lockdown saw most of us having more time on our hands than ever before. The result was mass baking of banana bread, rigorous declutters and DIY projects as we all tried to keep ourselves busy whilst confined to our homes. Enter TikTok, an app that speaks to our dwindling attention spans and love for adorable cat videos, the perfect place to visit when in need of a little bit of escapism.
But what if TikTok became more than just a hub for entertaining content? Well, TikTok is in fact working on broadening its horizons and want to help its users land their dream job with the launch of TikTok Resume. This pilot programme offers job candidates the opportunity to take a more creative approach when applying for new roles by creating video CVs via the platform. TikTok 'believes there's an opportunity to bring more value to people's experiences' as users are increasingly creating career and job-related content.
Now, whilst multimedia job applications are nothing new, TikTok's adoption of this feature suggests that employers may begin to see a rise in the amount of them being submitted. In fact, a recent survey by LinkedIn found that 62% of job seekers believe sharing supplementary videos along with a traditional CV will increase their chances of creating an authentic connection with a potential employer and landing them the role.
So as more candidates explore the potential of multimedia, how are business's reciprocating the effort to demonstrate that they too are adopting new technologies in their communication with staff?
Let's take a look at how multimedia is currently being used in the workplace and what benefits it can facilitate within existing routines.
Touching Base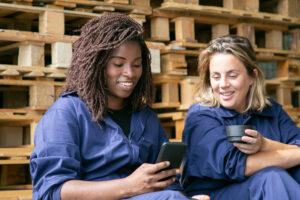 When stepping back into the office after a relaxing weekend, reconnecting with colleagues is an important first step in starting the week off on the right foot for multiple reasons. On one hand it gives senior team members the opportunity to share important updates and news so that everybody feels included in the wider business-related conversations taking place, but it also creates a platform for colleagues to chat about more informal topics as well. This is a type of dialogue that is often underestimated, or even discouraged, but plays a key role in creating fulfilling workplace relationships amongst colleagues. Together, this all contributes towards a more harmonious and stronger company culture, making it something that businesses should always make the effort to preserve.
However, with workforces more dispersed than ever, it can often be hard to facilitate those communications and retain cohesive relationships within teams. That's why some businesses are turning more to multimedia approaches to reinstate that sense of community when staff can't always be in one place at the same time. Taking a digital approach and hosting more videos from team leaders alongside chat forums and nicely presented visual content such as team photos and personal updates offers a more diverse approach to communication that can really contribute to stronger culture.
Allowing staff to be more creative with the way they communicate together too will not only lead to higher quality engagements but will also encourage more frequent dialogue throughout the day. And this, in turn, will have a positive impact on motivation and happiness throughout the workplace.
Interactive Learning
Some may argue that one sign an employee is in the right job is that they feel challenged and encouraged to develop new or build upon their existing skills. This is because whilst finding work easy may sound like the dream, it can often lead to feelings of complacency and boredom which don't encourage employee retention. To counter this it's important for employers to be proactive in adapting their approach to training and development to reflect working life in 2021. This can be achieved by offering both flexibility and interactivity through a multimedia approach.
In a bustling work environment where back-to-back meetings and tight deadlines are a given, it can often be hard to find the time or motivation to fit in enough opportunities to keep track of how far employees have progressed in their learning, and to encourage them to go further.
Enter online learning with a mixture of multimedia resources from interactive videos, worksheets and audio clips that give staff members more control over when and how they approach their workplace training and development. This will improve the likelihood of participation and the quality of resources to better cater to individual needs. Taking this kind of on-demand, technology-led approach to staff development and giving them access to multimedia tools will help to ensure that every employee is getting the training they need to succeed, and to demonstrate that the employer is investing in effective teaching methods that promote growth within their company.
Staff feedback
From improving connections between employees and teams to developing new skills, knowing how to support staff members is best achieved by simply asking them what they need and responding accordingly. This may sound obvious, but gathering regular feedback from both individuals and teams can sometimes be pushed to the side when things are busy. This is why more businesses are now opting for a multimedia approach that offers greater accessibility. By providing more varied ways to offer and receive feedback, employers can not only gain more insights into the daily running of a business from the people at ground level, but can also show employees that the company recognises how important their collective voices are to the business's success.
For example, companies should encourage the use of feedback-dedicated group chats so that employees always have a place to suggest improvements that can benefit the overall culture of a business and know that it is getting through to the right people. Keeping video/audio recordings of sessions from feedback workshops also offers a great way to document this activity and demonstrate a transparency that people will appreciate. Creating healthier communications between staff and management in this way, and then showing a willingness to adapt to the growing needs of a workforce, will aid positive reinforcement that the company cares for its staff and wants to listen to what they have to say.
Using multimedia in these ways can help to bring vibrancy to a workplace, much like TikTok's Resume pilot promises to enhance those first interactions between an employer and potential new team member. It all speaks to a much wider movement towards more interactive ways of communicating with one another within a professional setting, much like we do in our personal communications, so it's best to start implementing some digital thinking into employee engagement as soon as possible to keep ahead of the game.